Systema Book - Russian Martial System
"Systema was suggested to me and I arranged lessons with Giuseppe. I can say that without a doubt, my time with him gave me the confidence to believe in myself on another level. If you would have told me what I would have learned before I went there, I never would have believed anyone, I would be as sceptical as other people are when they have never seen what I have."

A.S.- Female Police officer
G Filotto - A Certified Instructor at The Way of Systema
ADVANCE COPIES NOW SOLD OUT

The book Systema: The Russian Martial System will be available on Amazon.com by the end of March. We will post a direct link here as soon as this happens. Come back to check soon.
SYSTEMA BOOK NOW SHIPPING
Early versions of the book available only for those who have purchased it off this web-site are now shipping for a limited period only. After a couple of weeks this site will no longer ship books and you will have to buy it online via Amazon.com or request it from a bookshop near you.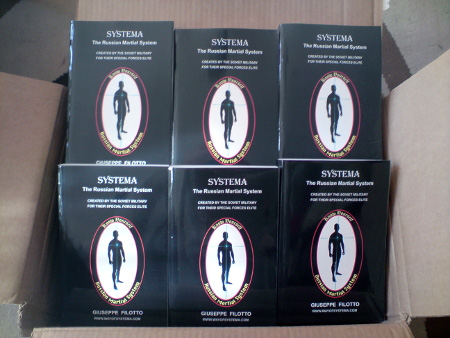 IMPORTANT NOTICE:
The book has already caused controversy even before it has been proofed and printed by the publishers. On the same day this site was launched, we received a strongly worded e-mail from 'Systema Headquarters' in Toronto, the primary clearing house of Ryabko-based Systema outside of Russia.
To read more about this and be clear on the fact that my work does NOT have the approval of Systema Ryabko, inclusive of their comment to this effect, please click here...
About the Book and the 30 Instructional Videos
READ FURTHER BELOW TO FIND OUT ABOUT THE PREVIOUSLY CLASSIFIED LATEST SCIENTIFIC RESEARCH AND HOW USING THE INFORMATION PROVIDED IN THE BOOK AND VIDEOS YOU CAN ALSO DEVELOP ABILITIES BEYOND THE NORMAL HUMAN RANGE.
The first, and to date only, complete Systema Manual. This book covers every aspect of the Russian System
Along with the book, which includes over 400 pages of information, each purchase also entitles you to exclusive access to 30 instructional videos
Each instructional video will take a specific topic covered in the book and give you exercises or more detailed understanding of the concepts involved so that you may practice even if you have no access to a qualified Systema instructor. Read below to discover more about the Videos and the contents of this amazing book.
BENEFITS OF THE VIDEOS
Allows you to get practical training instruction in Systema even if you have no access to qualified Systema instructors
Avoid expensive travel and seminar costs
Instead of a few days of instruction where it is difficult to assimilate the core principles involved, you get a YEAR's worth of videos spaced out a week or two apart (depending on the module) that take you from basic principles all the way to the more advanced techniques and abilities that are so rarely developed by students without a deeper explanation of the underlying concepts and personal attention from qualified teachers.
If you have already been training in Systema, the Videos are INSTRUCTIONAL in nature, meaning that instead of seeing someone else do amazing feats, you learn how to do them yourself.
The principles in the book can be applied to ANY martial art or indeed ANY physical activity so will benefit ANY sports person at any level
The videos will be made available exclusively to those who purchase the book
This information is currently NOT available anywhere else and much of the material in the book has never been seen in print before
Some of the "super-powers" that are taught in the book will be demonstrated on the instructional videos so that you too can begin to expand your abilities beyond those considered "normal"
No hype. Only reality. Everything discussed in the book and videos, including the unbelievable "superhuman" abilities is clearly demonstrated and explained using the real science that is behind the concepts. The same science used by the Ex-Soviet super-state to research and develop The System, including those skills that go beyond the normally accepted human range of abilities.
At £49 inclusive of shipping, for the book AND 30 training videos this is the cheapest and most complete way to get a year's worth of training available ANYWHERE.
INSIDE THE BOOK
For the first time, previously classified information regarding the physiological and psychological training received by Elite units of the Ex-Soviet and current Russian Special Forces is detailed
The truth about advanced processes of perception are finally demystified with the true scientific data
Because the information is based on principles of physiological and psychological as well as neurological training, it can be used not only by martial artists of any style, but by anyone involved in any kind of physical activity
The book covers and includes all of the following topics:
Links to instructional videos provided exclusively for those who purchase the book
Callisthenics – Including neurological remapping principles
Strikes – How to receive as well as give them
Grappling - Learn the fundamentals that make it easy to survive and master grappling
Breathing and how it relates to all the fundamental processes of the human body with specific emphasis on martial aspects
Injuries – Their cause, prevention and cure
The Sixth Sense of the Body and its application in combative situations
Learn the real science behind supposedly paranormal abilities and how to develop these skills yourself!
Learn Short Range Telepathy, Seeing Auras and How to see Colours with your skin merely as a side-effect of learning more advanced combat-applicable skills!
The Latest Scientific Research on the most advanced "superhuman" abilities of the human mind and body
Military applications
Religious and philosophical aspects and their neurological and psycho-cybernetic implications
Pilot case study performed at the School of Psychology, University College of Dublin, by Dr. Peter Slattery (PhD.) in conjunction with the author and other professional sportsmen. Investigating for the first time anticipation skills in martial arts and combat, comparing Systema with other combat styles.
Written in an engaging style, this is no dry training manual; it includes personal anecdotes (both humorous and serious) and experiences from real world applications, making it entertaining as well as practical
Many other topics are also covered.